December 2, 2005 - My Office Space
So I must be doing ok at work so far. Today was moving day, and I got my very own desk and cube:) No more following poor John around like a lost puppy trying to learn how to do his job. I am on my own now:) (Sort of):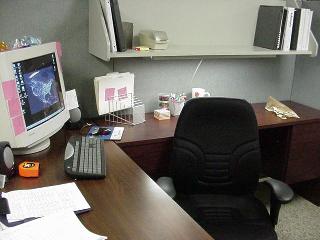 Comments
And...That doesn't look like any part of a truck on your computer screen.
Hi Amy - welcome to the working world! Hope the stickies on your monitor don't have passwords written on them! Is that a tape measure on your desk?
Add Comment