December 30, 2005 - Friday - windows!
Happy New Year everyone!

Tomorrow Kevin and I will leave for VA to spend the new year with my family. I expect it will be very relaxing. At least I hope so, because I will need to be rested up for installing more windows and doors with Kevin on monday.

Yup. Things are movin' right along. Kevin got four whole windows installed today. He also got a call from the HVAC contractor, and they will be coming on monday to install the air conditioning and heating system. As long as Kevin and I make it back sometime Sunday night, we should be able to be at our house all day on monday to install the rest of the windows and doors while the hvac people are there.

I think the house is really starting to look like a house now that it has some windows: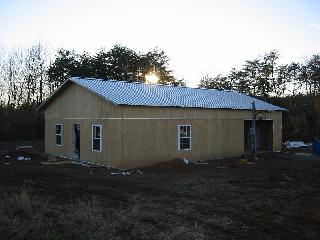 Comments
Tell us where the rooms are in relation to the windows and doors that we see.
NICE UP-DATE :-)
NICE UP
Add Comment