1/13/2006 - Friday
It looks like Kevin will be able to finish up the plumbing today. Hooray! This accomplishment is exciting because we can now get an inspection, and move on already. However, its a bit anticlimatic because the well isn't hooked up yet (as in, we don't have a pump installed, or even purchased), and we don't as yet have a septic system. The plumbing may be done, but we still don't have running water. There is only so much one guy can do in a day. I just have to remind myself (and Kevin sometimes:) that all this time and money and hard work is worth it to OWN our own house....(keep repeating keep repeating)....

I also have some pics to share from yesterday:
We now have a shower, yea!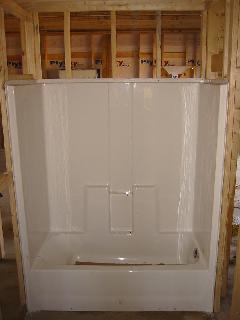 Plumbing, plumbing, and more plumbing...