2/13/2006 - Monday
Sorry I have been absent. Here is the latest progress on the house:

First, the mystery of the lost pictures has been solved. No matter how many times I asked Kevin for the pictures I took last weekend on his camera, he could not find them. The reason for this is that he had, in fact, never downloaded them off of his camera, and thus could not find them on his computer:) So today, I will make up for it with LOTS of pictures:)

Also, it snowed this weekend for the first time all winter.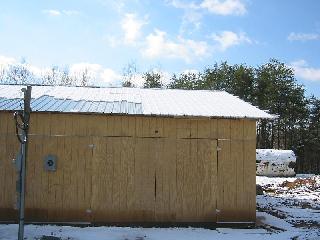 On Sunday, Kevin and I went out to the house. We spent the afternoon surveying and marking up the ground for the drain field. Once again, hurray for the surveyors level. Now that its all laid out, Kevin can do the rest by himself:) Let me tell you, he's looking forward to all that digging:) (535 ft!) However, he has all the pipe and materials necessary to get to work, so hopefully the weather will hold out and he can push through the tedious and dirty job of digging the drain field.

We also insulated around the windows. That spray foam is neat stuff, and the whole job took about 20 minutes: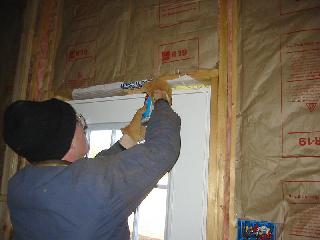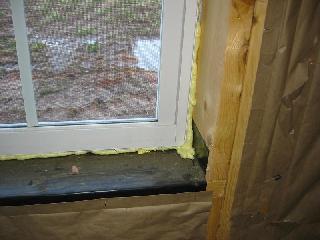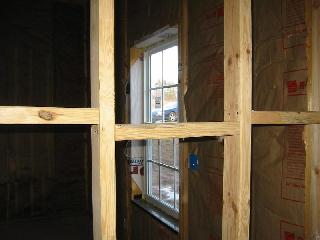 The house, as it has been for a week, is ready for drywall: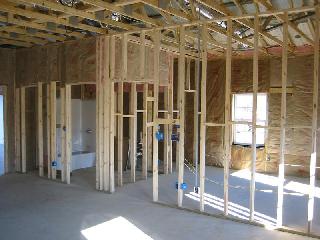 Here's a pic of the cabinets stored in the barrel:)



Looking out through the walk-door in the garage. (This is where we store our trash:) Construction is messy):



We like to keep a moat around the house: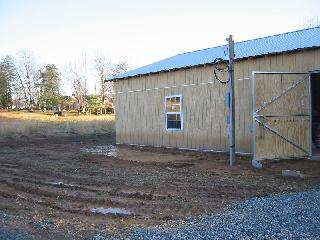 The back side of the house: