3/20/2006 - Monday
Almost there!

Kevin has a very short list of tasks to do in order to get the CO. He needs to install a shut-off valve and a pressure gauge, put trim around the entrance to the attic, and a few other little things that I can't remember right now. His main goals this week are obviously to get those tasks finished so we can get the CO, and then get the power company to come move the power over to the house. Other than that, we should be ready to move in by the end of the week!

Here are some pictures from this weekend: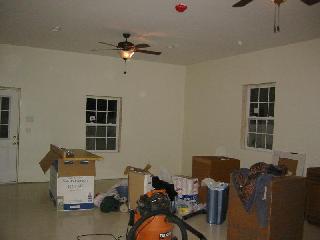 Our great big closet! (It has almost as much volume as my current bedroom...which tells you how small my room is right now, 'cause this closet really isn't that big...)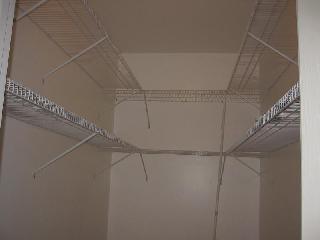 So much utility! Wow! :)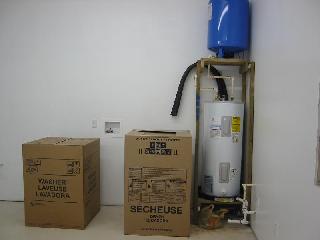 Trim...I am so sick of it....little pieces of wood you stick on the walls...poor Kevin, how tedious... (but it looks great! Finished even...)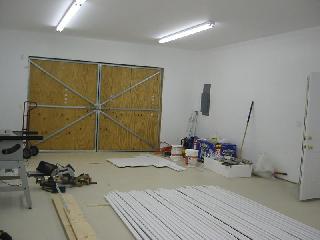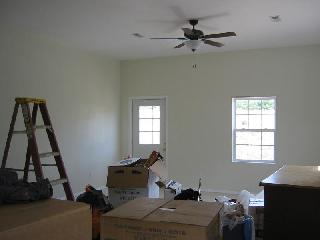 I am going to be replaced by a machine, hurray!



The to do list for the week includes: installing all of the appliances, finishing trim, CO requirements, and kitchen cabinet work. Once the dishwasher is installed, Kevin can finish installing the kitchen cabinets and counter tops. Currently, both the kitchen sink and bathroom sink leak, so there will be some time devoted to fixing that as well. (To Kevin's credit, it's not his fault. The sinks are installed correctly, the hardware just doesn't seal very well). After that, its moving time!
Comments
WINTER :-(
I really have no idea what that black hose is. (I think its a peice of something that is just hanging there, not actually attached to anything...) Also, what the hell happened to the weather? We went back to winter this week I guess...
Certificate of Occupancy ........
? What is the BLACK HOSE ? coming out of the top of the Water-Heater... & under the Water Pressure Tank ?
Chance of RAIN / SNOW, Tonight for 27027
:-) :-)
LEAKY-SINKS :-(
DISHWASHER :-)
Add Comment