3/22/2006 - Wednesday
We got the CO! Hurray!

Now all Kevin has to do is convince the electric company to come out this week and move the power over to the house. Since we won't have enough power to run the water heater until they establish full service, I am hoping they'll get here before the weekend. I am not so sure I want to move in until we have hot water...

Anyway, Kevin finished installing the appliances, cabinets and countertops. Here are some pics:


(Btw, the bathroom is NOT this yellow...the lighting and whatever mode the camera is in really distort the colors...note to self: try different camera settings so the bathroom doesn't look so damn yellow...)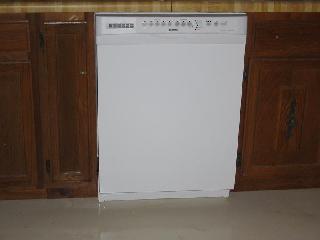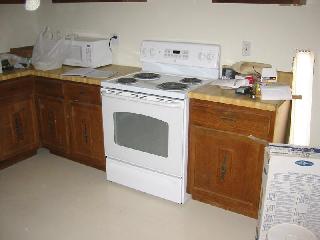 Just odds'n ends left to do. I think Kevin is spending today fixing the leaking sinks, and doing some touch up painting. Also, if I don't update for a few days, it means I am moving and not sitting in front of my computer, so wish for some sunny weather this weekend:)
Comments
:-) :-) ...
The 'fridge is still in the shed:) It might get moved before the weekend, or I might get the pleasure of helping to move it:) (At least it matches the lovely hood over the stove:)
Congratulations on the CO!!! No picture of the lovely refrigerator???
Add Comment