4/3/2006 - Monday
So how do I like my new house?

I absolutely love it! It may be small, but its brand new and all ours: ) Its so much fun making this place feel like home. And since I know some of you are just dying to see some pictures, Iíll throw you a bone today:

Here is the kitchen:


See all those boxes on the left? They all got put away this weekend. Both Kevin and I actually enjoy keeping the place clean (I doubt anyone whoís knows us is ever going to believe that until they see it: )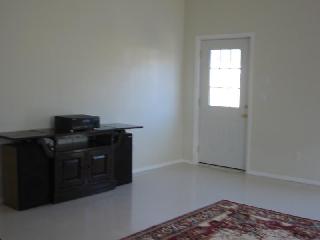 I havenít been to the gym in months, so I finally brought the gym to me! (We also have a weight bench, itís just not in the pic).


Iíve been looking forward to getting my elliptical trainer for months: its part Christmas present, and part investment.

Here is my lovely bathroom: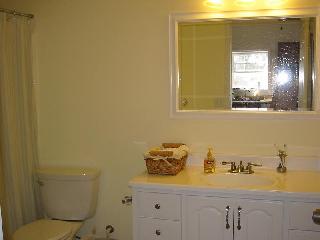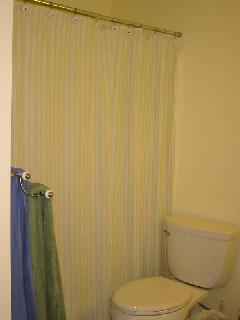 Here is the bedroom. Notice we donít have real computer desks, and I still donít have a chair. Ah well, weíll get them eventually. (Iíll get my chair sooner than later I think, the paint bucket Iíve been sitting on isnít really workiní outÖ)



My giant closet that Iíve taken overÖ.maybe Iíll let Kevin use some of it: )Ö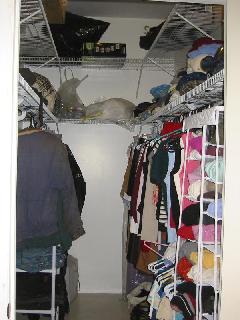 Ten foot ceilings make Kevin happy: )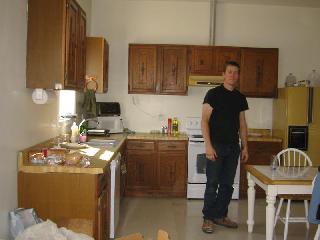 Comments
4 ELLIPYICAL-TRAINER Advertisements in the Sponser-Column ...
NINE Pictures :-) :-)
As soon as I get my pull out couch, hopfeully this weekend! :)
When can I come and dig holes in your yard....
Lifefitness - I must have tried out 10 different machines, and this was the best one I could afford - I love it!:) (So far all its done for me is remind me how out of shape I am!!!)
Looks-Like, the CLOSET is too SMALL ...
WOW !!!!!!!!!!!!!!!!
Looks great!! I also like the elliptical---what brand?
Add Comment