6/7/2006 - Wednesday
Well, this post will probably surprise some of you more than others. You'd think after all the hectic activity of the last month and a half that Kevin and I would be desperate for a quiet weekend at home.

Nah. That would be nice, but I've been contemplating making a MAJOR purchase for a long time now. I've just been waiting to "get all my ducks in a row".

Kevin and I talked about it, and decided that life is too short not to do what you love. As of last Saturday, there is a new addition to the family:)

A brand new Kawasaki 650R, the perrrrrrfect bike for me: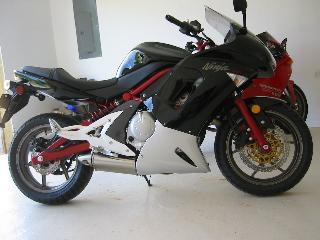 Yup, there are many happy days of riding ahead of me.

Disclaimer for those who disapprove: Yes, I've taken the MSF (Motorcycle Safety Foundation) riding course. Yes I have my NC motorcycle endorsement. Yes, I have full insurance and all the requisite safety gear. No, you cannot persuade me not to do something I love.