6/18/2006 - Happy Father's Day, and bring on summer
Happy Father's Day Dad! Congrats, so far you've survived a full 24 years of fatherhood. Lol, I don't blame you, I'd make this face too: )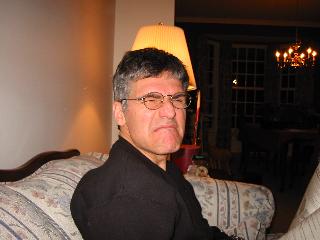 In other news, OMG! I have the internet AT MY HOUSE! It's incredible. After months and months and multiple crews of Time Warner employees, the cable has finally made the connection from the road to my house. You might think: "Gee, they must really live out in the country if it took that much trouble to hook up the cable," but you'd be wrong. Time Warner customer service really is that bad.

However, as long as the connection continues to be as great as it is right now, all of that mess is water under the bridge. I am happily plugged back into the matrix and life is good again: )

Speaking of life being good again, Kevin and I have been taking advantage of the nice (but increasingly hot) weather and riding the bikes every chance we get. Last weekend he and I took the bikes to visit my parents at the lake house, and we had a grand 'ol time. My dad rented a boat for Saturday, so the five of us (my parents, my brother, Kevin, and me) played all afternoon out on the water. Mom was even daring enough to try and water ski, while the rest of sat in the boat and laughed at her. Hey, at least she tried it. The rest of us just chickened out.

Sorry, this is the best pic I've got.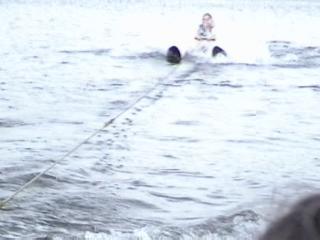 The boat is already reserved for the Fourth of July weekend, so if the weather cooperates this time, the rest of us will likely get our chance to humiliate ourselves on the water skis.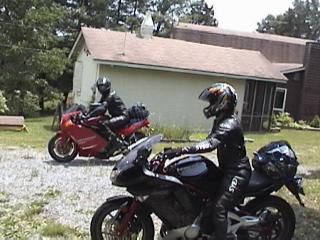 Kevin and I took a short ride this morning too; just a few hours exploring the back roads of the next county over. If you think there's nothing going on in Rockingham County, you should see Stokes County.




Boy howdy there's a whole lotta nothin' happening over there. That picture is just north of Danbury, the center of the county, which has exactly zero stoplights. (This is how you know you've assimilated to southern and/or country culture by the way, when you start making fun of people perceived to be more back woods than you are *cough West Virginia cough cough*) I say this all in jest, though, really. Danbury is a neat little town. As we rode through today, we saw people getting ready to go tubing down the river. Last fall, Kevin and I went to some sort of festival that had arts and crafts, live performers, some local and regional live music, and all sorts of vendors. Plus, throughout the county there are a lot of really pretty roads that are just great for motorcycling, and there is Hanging Rock State Park, which is a gorgeous place to visit.