7/7/2006 - Friday, Happy Friday!
Oh yeah, in case you didnít notice in that last post, thatís right, Kevin and I worked on the car INSIDE our AIR CONDITIONED garage, that has EPOXY coated floors. Yup. We moved the bikes to the back, and then pulled my car in and closed the barn doors, with plenty of room left to work. It was especially nice not working outside, given the over 90 degree temps outside that day. So yeah, I know some of you are jealous:)

In other news, we got a new refrigerator!!! Yea!!!!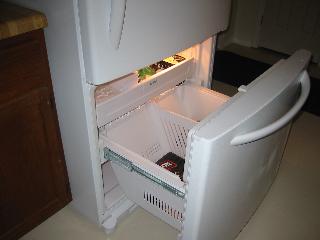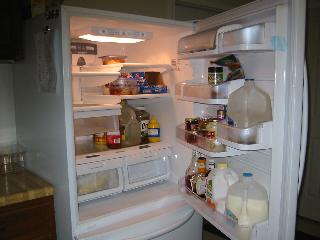 The old fridge was definitely on its last legs. The entire time weíve had it, Kevin and I fully expected to come home one day to find a puddle on the floor and the food at room temperature. Despite this expectation, however, it never failed to keep the food cold, and was therefore worth all of the $10 Kevin paid for it.

The new fridge, while costing a little more than $10, is really nice. There arenít any scratches on the side where someone dragged it across the concrete, and when itís running, you donít even have to shout to be heard over the noise from the compressor:) (Our old harvest gold side-by-side fridge is officially the ďloudest.fridge.ever.Ē) You canít even hear the new one in the next room! I am especially appreciative of the light that comes on when you open the door, which the old fridge lacked. AND, (omg omg), it has an AUTOMATIC ice- maker. I know! Between that and the office chair my parents got me for my birthday, I feel like I am really moviní up in the world:)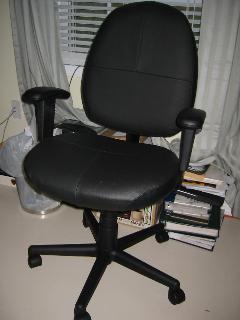 No more paint bucket for me, I have a real place to sit. Plus, my computer is working flawlessly (for once). Couple this with the fact that Kevin and I no longer have to live in fear of coming home to warm beer, and I have to say, life is pretty good.