7/10/2006 - Monday...
I had a Great weekend. I did some riding, some eating, a little work around the house, and some lying around. All weekends should be like this:)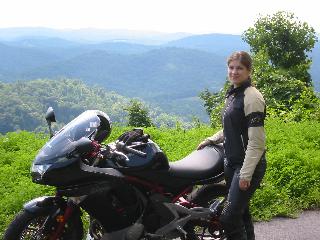 Kevin and I left early Saturday morning and rode north and west into Virginia. Even though we didnít go very far, we stayed out all day, mostly riding around the Meadows of Dan area. I donít think riding gets any better than this, I really donít.

Squirrel Spur Rd just might be the most-fun-road-ever.


Naturally, we checked out some previously unexplored (by us) hydropower. The Pinnacles dam is a really interesting site, and was entirely worth the effort put forth to see it. Built in 1938, its one of the oldest sites Iíve seen in this area. When we arrived, the gate at the top of the mountain was locked, blocking the service road that goes to the dam. This, of course, did not stop us, as these sites are supposed to be open to the public. (As demonstrated at Kevinís Dadís sites, gates arenít terribly effective when it comes to hydropower and dams.) So, we parked the bikes at the top of the hill and walked around the gate. Little did we know how far down the mountain we still had to go to actually get to the dam. However, the weather was gorgeous and comfortable (as opposed to stifling hot as is typical), and we were energized by the fun ride up to the dam. Our sense of adventure kept us hiking down the hill for almost a mile, and probably more than 500 ft of elevation change, until we reached the bottom. Like I said, the trip was worth the effort.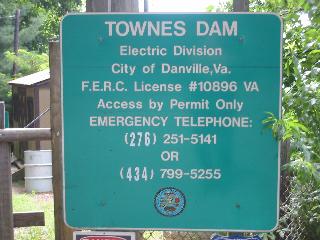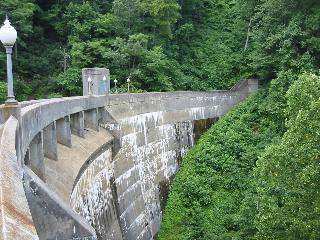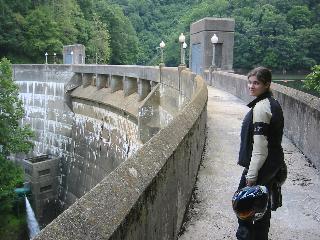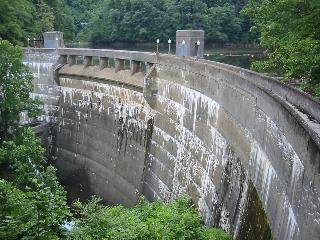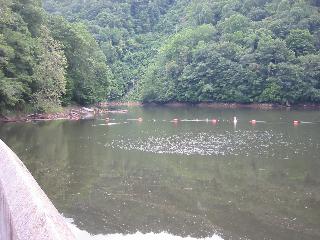 The view from the pit of the valley was truly awesome. The dam is of course at the very bottom of the valley, wedged in the base of the adjacent mountains. Kevin and I left the service road and walked down the concrete steps onto at the edge of the dam. The walkway continued across the top of the dam, and provided a great a view of the impoundment and the downstream valley and forest. At roughly 80 ft tall, itís almost hard to believe that people could build such an enormous structure before the advent of the modern construction equipment we have today. The masonry is especially impressive, as all that concrete was formed without the use of plywood. I found the valley itself to be especially striking, in that itís very narrow and very deep, and the towering mountains on either side are covered in dense forest.

After lingering more than a few minutes to take pictures, admire the scenery, and speculate about the various aspects of making power at this dam, Kevin and I psyched ourselves up for the trip back up the hill. Since we were still wearing or carrying most of our motorcycling gear (leather pants, jackets, helmets, tank bags, etc), we took it easy. All told, it took about an hour and a half to walk down to the dam and back up. Needless to say, my shins and calves are still reminding me of this little adventure as I type this.

However, I am still laughing at what happened next. Just as we were suiting ourselves back up to leave, four motorcycles came around the bend and stopped next to us in front of the gate. The bikes themselves were a rather eclectic mix (read, not all GSXRs), consisting of a Ducati ST4, a Ducati monster, an older triumph, and a Kawasaki that looked to be from the early 1980ís. (Apologies for not really knowing what the last two bikes were. Iím fairly competent at identifying street-bikes made after the late 1990ís, but thatís about it). We waved and said some friendly hellos. Now get this, the leader of the group returned the greeting, and said: ďHey, Iíve got the combination to the gate, you want to go down and see the dam?Ē I practically fell over laughing, because really, the timing could not have been better. After we finished explaining, much to their amusement, that we had just finished walking back up from the dam, we suited up and followed them through the gate and down the road anyway. Let me tell you, it was a whole lot faster riding the bike down. It took all of two minutes, and we were down in the small parking area, shooting the breeze with our new friends.

They had just come from the upper dam and the powerhouse associated with this site. After talking with those nice folks and learning a bit more about the area, we all decided that it was about time to eat lunch. So, we geared back up once again and headed out. (For those not in on motorcycling culture, this type of thing happens a lot. A group of riders tends to grow throughout the day as you meet new people and go riding together for awhile.) We ended up having lunch a little restaurant/gas station on RT 58 with them, and then had to head towards home as it was getting late, and we had plans for the evening.

Kevin and I were both pretty tired by the time we got back, but we had *just enough* energy left to go cookout for dinner with some friends. It was tough, but we made it there in time to sit and relax. We ended the day by cooking some steaks on the charcoal grill, having some beer, and eating this dessert: (My friend Dawn brought this recipe into work and it was awesome, so I got it from her and made it again this weekend. Thanks Dawn, it was a hit!)

Crust:
2 cups Graham Cracker crumbs
1 Stick butter
(Mix and press in bottom of dish)

Filling:
2 cups 10x sugar
1 tsp vanilla
1 container = 2 eggs of egg substitute
(mix until smooth and spread over crust)

4 bananas Ė sliced, layer on top of filling
1 can crushed pineapple Ė layer on top of banana
1 container cool whip Ė layer on top of pineapple
Layer walnuts and maraschino cherries to taste

Like I said, all weekends should be like this. I love Summer:)