8/7/2006 Ė Monday Ė And Iím not dead, I Promise.
Really, Iím not dead. Iíve just been a little busy, and a little too lazy to post anything here. Things really picked up at work and I havenít really had time to create blog entries on my lunch break. Iíll try to get better, really I will.

Honestly, I havenít been up to anything too interesting here in NC; mostly just working. But, for those who are interested, here is a grab bag of pics and events from the last couple of weekends.

This last weekend was tons-o-fun. On Saturday Kevin and a few of our friends competed in the annual Dan River Boat Race . Kevin and John were in one canoe, and raced against Bleu and Scott and all the other guys in the menís tandem canoe class.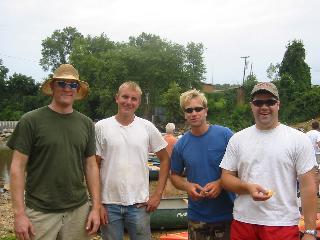 Kevin, Bleu, Scott, John

There were over 100 canoes and kayaks in the race this year. Although the majority of racers were from our local community, a few people traveled hundreds of miles to participate. It was definitely a fun family event. All sorts of people showed up: from the serious competitive racer, to grandparents and grandchildren just looking to spend time paddling down the river together. Lunch and musical entertainment were provided afterwards, and there were trophies awarded for first and second place in many different classes. I am definitely making it a goal to compete in the womenís tandem canoe class next year.

Letís see, a little further back in time was the weekend of the 29th. If I recall correctly, worked most of Sunday on a project for my job, so, letís just skip to the weekend before that. Kevin and I went for yet another awesome ride that weekend, and had lunch on Pilot Mountain: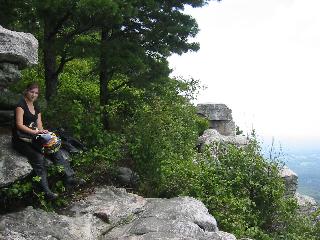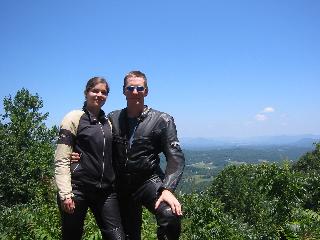 And so you donít think weíve been just goofing around, hereís evidence of progress (albeit minor progress) on the house: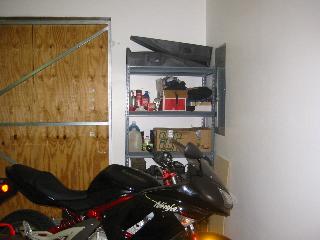 I just came home one day and Kevin had totally cleaned the garage. I know! All of our stuff was organized and on shelves. Itís great! You can find everything, and there is room to move and work Ďcause its not all over the floor.

Also, our friendly neighbor/farmer finally came to cut and bale the hay on our land. Not only does it look a lot nicer, but it feels good knowing our land is being put to productive use: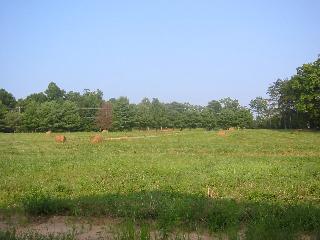 Our land is also feeding us: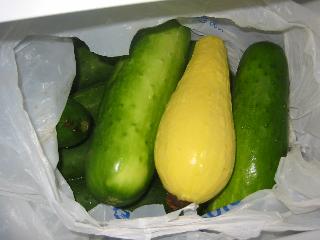 The best part is, we didnít even have to work for it. Our neighbor directly adjacent to us keeps a rather successful and bountiful garden out behind his house. Since the garden is actually on our property, we agreed that he could keep the garden as long as we get a little bit of fresh produce every now and then. This has worked out really well, since he has produced so much squash and cucumber that he canít give it away fast enough. Heís even delivered bags of fresh produce right to our door. I tell ya what, you canít get service like that just anywhere.