9/23/2006 - Saturday
I love North Carolina. It is absolutely gorgeous here. The weather last weekend finally cooled off, and I think nearly everyone in the state found something do to outside during the day last Saturday and Sunday. Kevin and I would know, since we took the whole weekend off to go riding and camping:

We took the Blue Ridge Parkway south for awhile until we reached the really fun roads in the mountains in south western NC. We spent Saturday afternoon and Sunday morning riding in and around Pisgah National Forest, and then north over the border into the mountains in Tennessee.

I put about 500 mi on the bike this weekend, and if we didnít have to get back to the real world on Monday, I could have easily gone 500 more.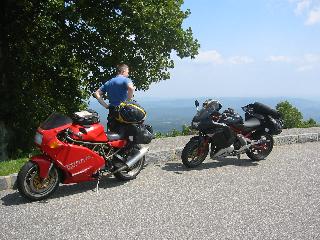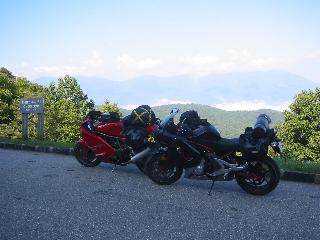 Comments
YES, They were staying at a Motel, West of Ashville. Basically, every morning, a Van would take them to the bottom of the Hills & they would spend the rest of the day riding their BICYCLES back up the Hills... The last day, on the Blue Rige Parkway they gained 12,000 feet of Elevation...
Hey, he should have looked us up. We'd have brought him lunch or something:) There were quite a few bicyclists on the parkway last weekend for sure. Way too much work in my opinion, all those hills!:)
WARD just got back from riding his BICYCLE on The Blue Ridge Parkway ffor about a Week...
Add Comment