Soon, there will be order from chaos :) ...


Porch progress: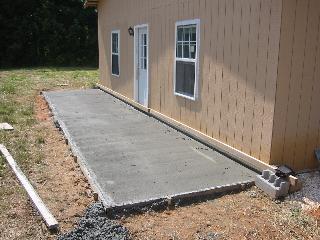 In the original spirit of this blog, I finally have home construction news to share. This weekend, Kevin and I started building the front porch: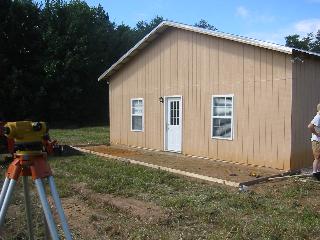 In five more days it will be fully one year after closing on our 22 acres of heaven. Currently, we have a small but fully functioning house, that isn't quite finished. I'm not sure that our house or anyone else's is ever really "finished" in the sense that there is nothing more on the "to do" list for the house, but I think Kevin and I moved in much earlier than the construction process than most : ) This is evidenced by the fact that, six months after we moved in, we're just now getting around to building the front porch. As I've said before, I wouldn't change a thing : )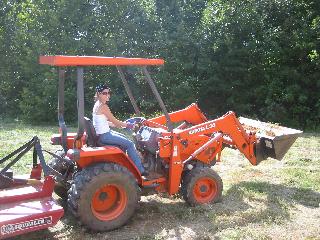 Kevin gets to work on concrete tomorrow without me. Lucky him: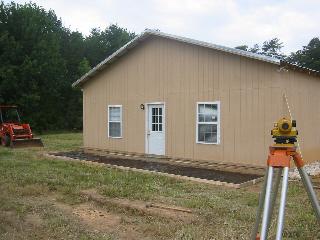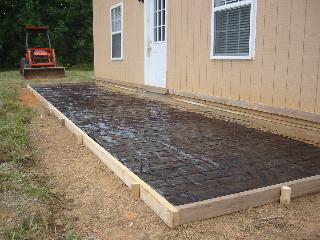 On a totally unrelated note, check out this very interesting video: Say what you want about Bill Clinton, but that is one smart son-of-a-gun:
http://video.google.com/videoplay?docid=-649761639290777197&q=fox+bill+clinton
(*disclaimer - those of you who know me know can pretty well guess what my political leanings are. I intentionally leave out most direct personal statements of political and philosophical belief from this blog, so this link does imply any sort of endorsement, just relevant commentary)
I love North Carolina. It is absolutely gorgeous here. The weather last weekend finally cooled off, and I think nearly everyone in the state found something do to outside during the day last Saturday and Sunday. Kevin and I would know, since we took the whole weekend off to go riding and camping:

We took the Blue Ridge Parkway south for awhile until we reached the really fun roads in the mountains in south western NC. We spent Saturday afternoon and Sunday morning riding in and around Pisgah National Forest, and then north over the border into the mountains in Tennessee.

I put about 500 mi on the bike this weekend, and if we didn't have to get back to the real world on Monday, I could have easily gone 500 more.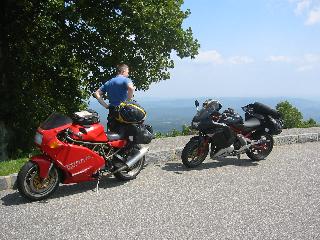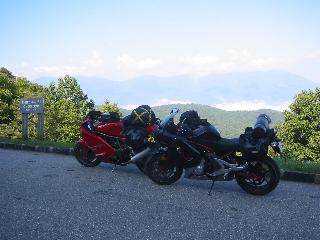 Home improvement glory:

Before: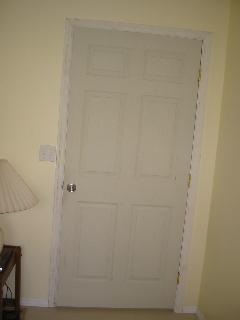 After: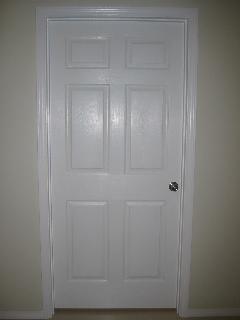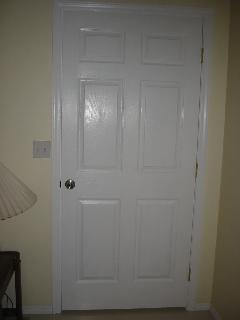 Ho Hum. Nothing much to report. Yup, I'm going to work tomorrow.

Kevin and I finally got around to painting some of the interior doors in our house. They look a lot nicer now. I'll have before and after pictures for you when the paint dries :) While that isn't very exciting, this little job did allow me to once again reflect on the many benefits of building our own home. Besides being less expensive, Kevin and I got to build whatever we wanted, and when it was finished enough to move in, the sense of accomplishment was and still is priceless. I don't know that I would recommend building your own house to anyone else, but it sure does instill a sense of appreciation and pride. Unlike most people I know, Kevin and I know our house inside and out. There isn't one 2x4 or stroke of paint one or the both of us didn't have a hand on. We didn't just tell a contractor what we wanted and then write a check. If I wanted it, I had to do it myself, or convince Kevin it was worth the effort:) (Thus, we still don't have any landscaping or an actual lawn…) Let me tell you, this is a great way to gain some perspective. Suddenly, certain extras, like say…oh, certain exterior decorative trim…don't seem so important anymore. Imagine.

Anyway, its my bedtime. Time to catch up on what's happening in the world before I go to sleep: )
Ya'll really need to start your own blogs so I can find out what you are up to, and yell at you when you don't post:). Things are going great here in NC, I just haven't been doing anything particularly blog-worthy (as in, events that anyone other Kevin and myself might find interesting). Kevin and I visited with my parents at their lake house in Virginia this last weekend. My grandparents and uncle were there, which was nice. It almost felt like vacation. On Sunday, my parents rented a pontoon boat, and the seven of us boated around the lake for a few hours. It was kind of a let down to realize I had to go to work the next day :)

Anyway, weather permiting, Kevin and I may try to fly to Florida this weekend. So maybe I'll see you there?

Until then, here is some cheap entertainment: Break.com (warning: its pretty low brow and often very stupid pictures and videos, so if you are easily offended, this brand of humor may not be for you).
So much sun and fun on Sunday:




Kevin and I rode out early to VIR on Sunday morning to watch some AMA racing. We spent all day trackside in the hot sun surrounded by thousands of race fans, and had an absolute blast watching some incredible motorcycle racing: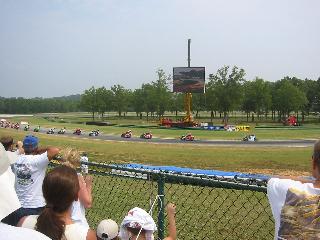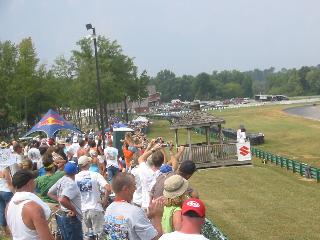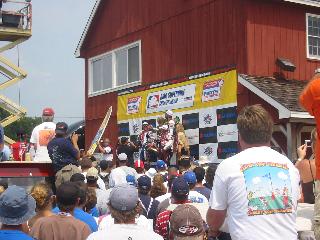 Matt Mladin won the superbike race on both Saturday and Sunday, and was incredibly entertaining and amazing to watch. Here he is doing a victory burnout: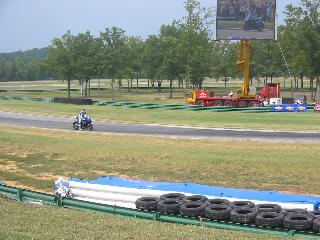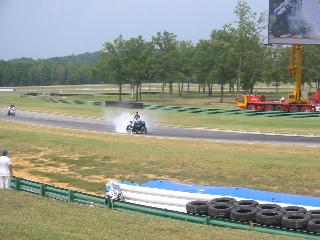 I think the race on Sunday was shown live on Speed TV, right after the Moto GP race. If it were actually possible to pick people out in a crowd on TV, you would see Kevin and me watching the race from around turn 3:)
(And yes, that is a crane holding up a giant TV, so that spectators (such as Kevin and myself) could watch both the TV coverage on Speed and the live action. This was great, as it allowed us to watch the race all the way around the track, not just the portion of the track we could see.)
You'll never guess what I did this last weekend. I'll give you a hint: the weather was sunny and cooler on Sunday after the cold font came through. Perfect weather for, you guessed it, motorcycle riding (you weren't really surprised, right? I mean, come on, do you really expect me to stay home and blog about working on the house when we had weather like last weekend?):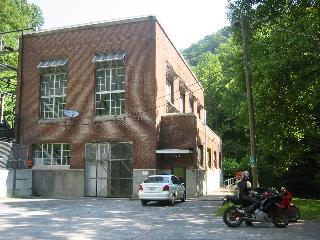 And where do we go when we ride? Why to see hydropower plants of course. In fact, on Sunday we saw two of them: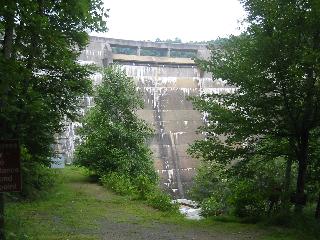 The first pic is the upper dam (Talbott Dam) which is part of the Pinnacles Hydropower Complex I visited and blogged about a month ago. The second is the Phillpott Dam. We only stopped there because it was sort of on the way home, and we needed to take a break. I'd like to visit again, as we didn't see very much. We mostly just sat in the parking lot and looked at the massive dam while we rested and drank some water.

Saturday was a miserable and rainy day. I used the time to be extra lazy and take two naps during the day, while Kevin actually did some maintenance on his bike:




This is what the intake valve on a 1996 Ducati 900SS SP looks like:




I am extra excited about next weekend. Kevin and I have tickets to AMA Superbike racing at VIR this weekend. It a double-header, and we have tickets for Sunday. Hopefully we won't get rained out. I check weather.com about ten times a day to try and gage my chances of actually seeing some racing this weekend. If it stays dry, we're in for a great time and some spectacular racing.
Check out these really amazing motorcycle videos:

http://www.youtube.com/watch?v=Xuxjr7vfSp8

http://www.youtube.com/watch?v=k3zoqTXCeko

(The second one is 9min long, so it may take awhile to load. It will start playing automatically, so hit pause or stop until it finishes loading so you can watch it all the way through).