So, despite the evidence to the contrary on this blog, I have been very busy. In fact, most of my readers probably already know what Iíve been up to, since Iíve been spending time with them, and not on a computer writing blog entries. Its almost as if fate decided it would be fun to fit most of the important events for the year into the month of May, and then laugh at me as I scramble all over the country with Kevin in tow trying to get to them all:)

Here is the short version of the story: ) Two weekends ago, Kevin and I flew to Tampa, FL with Kevinís dad. Kevinís parents very graciously lent me one of their vehicles so I could drive to Sarasota to visit Stephanie, and attend her over-the-top and wonderfully enjoyable pre-wedding festivities. For those who donít know, Stephanie is my very good friend from USF, was the very very best roommate in the whole wide world, and is getting married to Ryan next weekend! (See you in a couple of days Steph!)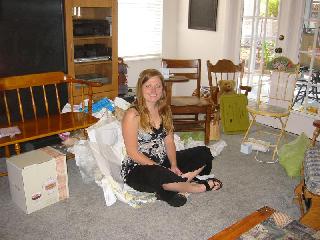 Last Thursday, Kevin and I drove to Syracuse, NY. We stayed with my Grandparents, who so very graciously tolerated our chaotic schedule. Again, for those who donít know, Syracuse is where I grew up, and met my bestest friend Beth. I swear that she and I were attached at the hip for the ten years I spent in Syracuse. I canít help but laugh and have a great time whenever I spend time with her, which isnít nearly often enough. This weekend, she made the perfect bride:

To Beth and Gregg: congratulations!

Itís hard for me to believe, but I think Iíve known Beth for almost 18 years. Last weekend I had the honor of being a part of her wedding. It was wonderful!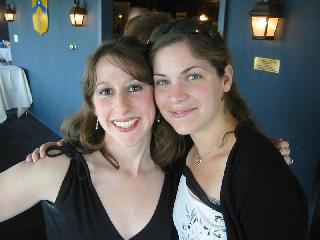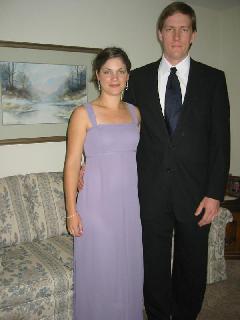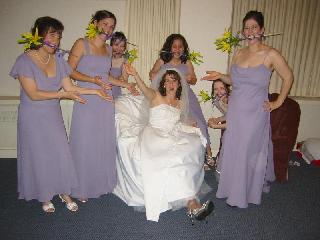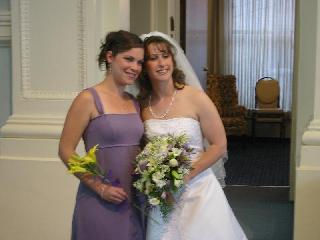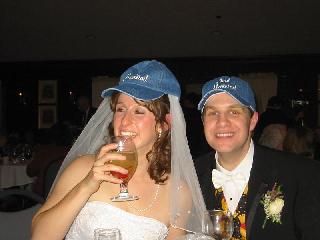 Awww, the happy couple. And in case you can't tell, Beth knows how to have a good time:)

I squeezed in a little time during the weekend to spend time with my family, and then Kevin and I drove home to NC Sunday and Monday. To my surprise and delight, I got a phone call on Monday morning informing me that our long awaited couch was waiting to be delivered. (How many weeks now have I been talking about this couch?) Hey, its not nearly as exciting as a wedding, but I've been talking about it for weeks, so I figured I'd better put some pictures up:)

Anyway, YEA! Couch!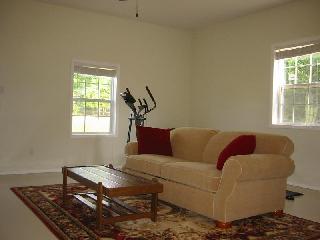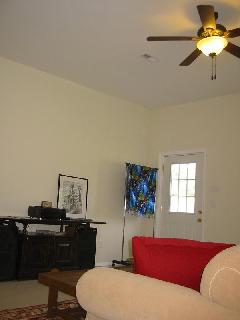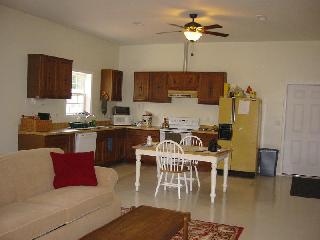 After another whirlwind trip to NY tomorrow, Iíll be in Sarasota again this weekend. No promises for the next blog entry, but as they say, ďstay tuned,Ē because at this pace I could be anywhere next week: )
I don't have anything interesting to say about the house today, other than our couch still hasn't arrived.

Anyway,another blog reminded me about this site, and I figured its a perfect link to share on a wednesday. (The first time I went to this site, I laughed so hard I had difficulty breathing...). Make sure to read who these things are perfect for, as that is equally entertaining.
Kevin and I painted the outside of the house over the weekend. Let me tell you, we are both a little tired of painting at this point. The job took all day Saturday and Sunday, and would have taken even longer if not for the sprayer (which is, once again, the tool of the week: )

All complaining aside though, the weather was wonderful on both days, and now our house is painted. The results are definitely worth the effort:

Before



After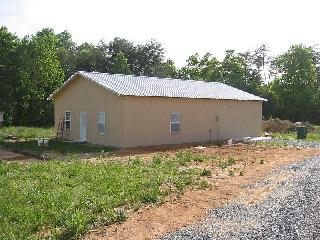 The outside of the house is really starting to look ďfinishedĒ, and now we donít have to worry about the wood siding getting wet. Plus, with a little bit of landscaping, some white trim, and a front porch, I really think itís going to be a cute little house.

And, yes, a lawn would be nice. Right now the weeds and dirt are not exactly doing justice to our beautiful property. Kevin thinks if we leave it alone the grass will grow and heíll just bush-hog it at the end of the summer. I think if I buy some grass seed and a lawn mower there will some chance that one-day we wonít be living in a hay field. (One can dream, right?: ) On the other hand, if he wants to let the hay grow, that means we can get some horses to eat the grass, right? Right??

Anyway, here are more pictures:
This is our mailbox (the one closest in the picture), which is where Kevin gets copious amounts of junk mail, and a view of the road that I see as I leave my driveway to head to work:



And here is what I see when I come home: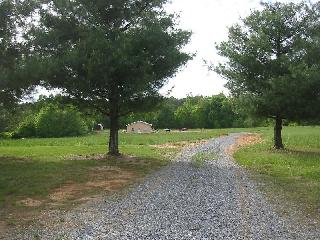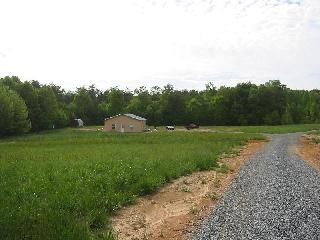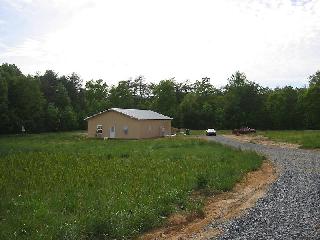 Our couch will get delivered sometime this week (according to the salesman). In fact, it might even come today:) This is very exciting, and somewhat life changing. Usually, Kevin and I just hang out on the rug on our living room floor for a few minutes after dinner. I am a little worried that if we actually have somewhere to sit down, nothing will ever get done.

For example, after dinner last night, Kevin got motivated to install what is basically a whole-house surge suppressor. It is a little device that mounts on the utilitiesí box on the outside of the house (the junction box where the meter is). The idea is that should lightning strike nearby, or if there is some other large surge of electricity on the power lines, the little black box will suppress it before it enters the house and our precious electronics inside the house will not be harmed. (Our computers are on a ups, and would likely be fine, but a large power surge could easily fry the electronic brains of our washer or oven). It turns out that Kevinís timing was very fortuitous. We had a thunder-storm last night that was producing some really scary lightening. Had Kevinís computer not been protected by the surge suppressor, a surge suppressing power strip, and the ups, I am sure it would have been toast: )
So...I know I have been a little absent, but I have been pretty busy doing very uninteresting things:), but in case you want to know, here is the run down of life in Amy's world:

1. Work: 12 hours a day 5 days a week I am either getting ready and driving to work, actually working, or driving home from work. This, of course, is a mixed blessing.

2. Working out: I am OBSESSED with my elliptical machine. If you ever come and visit, don't touch it, or even really get near it, I am not sure how I'll react.

3. Visiting my parents: My trip to Northern VA this last weekend was very nice. I like visiting my folks every now and then:) However, driving through that area of country reminded me of how much I HATE northern VA. What a horrible, congested, traffic ridden, yuppie, inflated real estate suburban nightmare that place is. I don't care how pretty the countryside is. Those people are nuts. They pay a million dollars (not an exaggeration) for a big, ugly, pretentious cookie cutter house on a tiny lot that has exactly 2 sq ft of lawn, completely crowded and surrounded by other big, ugly, cookie cutter houses. Yuck.

4. Wedding mania: Two of my very best friends, Beth and Stephanie, who are probably going to read this, and also have never met one another, both decided to get married this May, one week apart. I am absolutely ecstatic for both of them, and I canít wait for next month to get here so I can go and visit them. (They probably canít believe May is almost here: ) I miss you guys!!!! While I am enamored with all the wedding-ness and the associated excitement, there are minor downsides. During the month of May I will be going insane with going to Sarasota for pre-wedding festivities, then wedding in Syracuse the next weekend, and then wedding in Sarasota the weekend after that (for those lacking in knowledge of geography, those two towns arenít exactly in convenient proximity to one another), all while attempting to plan my own wedding, which is presumably going to happen sometime this year. (In fact, for my sake and my parentís sake, it will happen this year, and it will be blissful, damnit).

5. Baja SAE at USF: Ok, I am no longer actually involved in SAE at USF, but those guys definitely deserve more space on this blog because they kick-ass. They did very well at Baja East in Arizona this last weekend, and look prepared to make an excellent showing at both West and Midwest later this year. There is a real possibility the Baja team could grab that 1st place overall position USF has been chasing for so many years. I wish I could go and cheer both the Baja and Formula teams on, but alas, I am a wage slave with no more available time off. Anyway, You guys rock!!! Good Luck!!! Go Bulls!!!!!
www.usfracing.com

Thatís pretty much life for the moment. Well, that, and continuing to work on the house of course. The ďto doĒ list is about a mile long, and all I really want to do is ignore it and go on vacation: )
Yeah! Its back up.

Life is back to normal.....

I'm leaving tomorrow to drive to VA to spend Easter with my family. I'll be back on Monday. Kevin, meanwhile, is in Alabama for the Baja SAE competition. After all those years of competing, he is trying his hand at being a judge. I doubt many people know more about Baja than he does, so I am sure he will make an excellent judge.

As for USF SAE, good luck guys! I wish I could be there to cheer for you.

(For readers of this site that have no idea what I am talking about, go here: )
www.usfracing.com
I don't know what's happened to my blog!!! The site went down earlier this week, and now that its back up, the formatting is all messed up and none of my pictures work. Tech support, where are you? Why doesn't the contact work?
This is what happens when two engineers are in charge of the house: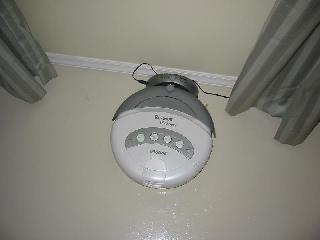 We donít have chairs, a bookshelf, or even own a TV, but we have a robot that vacuums our floor: ) Yet somehow, neither of us thinks our priorities are out of whackÖ.
(I love that little roomba btw, itís so cute, and does such a good job. Its like a member of the family :)

Anyway, Kevin is the most wonderful man in the world. I came home yesterday to find that he had spent all afternoon on the bush-hog:


Btw, thatís a damn fine lookiní car in that picture. Its like its just been washedÖ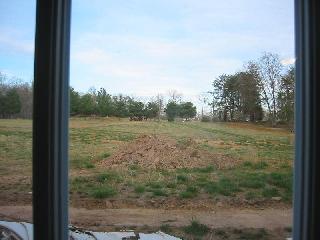 Our ďyardĒ looks much less like a hay field now. Plus, Kevin has made a large dent in cleaning up all the construction trash outside. This makes both us happy, and our neighbors happy, as you can imagine.

PS - I should have posted yesterday at 2 minutes after 1pm, it could have been 01:02:03 04/05/06....*sigh*...and I wonder why people call me a nerd...
So how do I like my new house?

I absolutely love it! It may be small, but its brand new and all ours: ) Its so much fun making this place feel like home. And since I know some of you are just dying to see some pictures, Iíll throw you a bone today:

Here is the kitchen:


See all those boxes on the left? They all got put away this weekend. Both Kevin and I actually enjoy keeping the place clean (I doubt anyone whoís knows us is ever going to believe that until they see it: )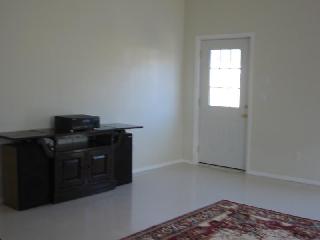 I havenít been to the gym in months, so I finally brought the gym to me! (We also have a weight bench, itís just not in the pic).


Iíve been looking forward to getting my elliptical trainer for months: its part Christmas present, and part investment.

Here is my lovely bathroom: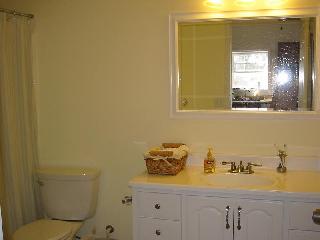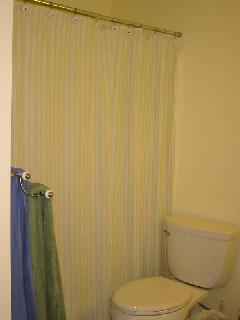 Here is the bedroom. Notice we donít have real computer desks, and I still donít have a chair. Ah well, weíll get them eventually. (Iíll get my chair sooner than later I think, the paint bucket Iíve been sitting on isnít really workiní outÖ)



My giant closet that Iíve taken overÖ.maybe Iíll let Kevin use some of it: )Ö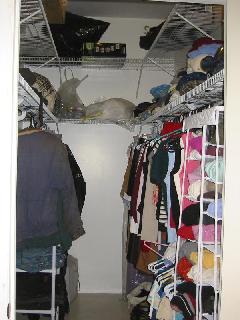 Ten foot ceilings make Kevin happy: )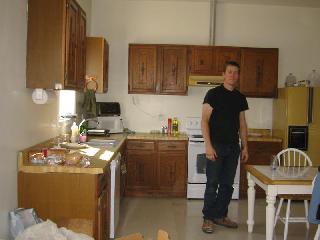 We're in!

We moved almost everything on Saturday, and made a second trip on Sunday to pick up anything we forgot.

The inside of the house looks great! But somehow, the "to do" list didn't get any smaller:) The yard is a disaster. We need to pick up and dispose of all the construction trash that seems to be everywhere (especially the big pile of drywall scraps outside our front door). That will hopefully happen on Saturday. We also need to get rid of the big heaps of dirt that are all over the place, level out the ground, and plant some grass seed. (The rest of the yard desperately needs to be bush-hogged). Plus, the outside of our house still isnít painted, and also very much resembles a barn. At some point, we really need to ďfinishĒ the outside of the house, which includes building the front porch.

We can't quit spending money yet either (as much as I wish we could). There isn't anywhere to sit down in our house. I think we own three chairs between the two of us:) There isnít much in the way of furniture right now; no computer desks, no nightstands, and the only place to sit is the kitchen table: ) We're both feeling a pressing need to acquire a couch. (I think Kevinís mom is helping us with this, which makes her doubly awesome. She already found some dishes, pots and pans, and other items for us that have made these last few days possible. Without her, our kitchen wouldnít have anything in it! Thanks Wendy!)

Itís ok though. Weíre in, and I feel incredibly fortunate. I cooked dinner on Sunday in my new kitchen using my new stove, and willingly did the dishes in my new dishwasher:) For now, we can relax. The rest will come.
Search This Site

Syndicate this blog site

Powered by BlogEasy


Free Blog Hosting